Current


A Modern Medieval Bestiary

by Koren Christofides



MAR 2 - APR 2, 2016
Opening Reception: 2nd of March, 2016


A Modern Medieval Bestiary We humans are so urbanized that it is difficult to imagine the lives of animals. When we succeed we have usually an anthropomorphic view of them. It is our natural way of recognizing their uniqueness and their innate powers that, deep in our psyche, still have such a hold on our mind.

The Fables of Jean de La Fontaine speak of that human-animal relationship brilliantly, while keeping a sharp eye on the real nature of things. In Ovid's Metamorphoses humans who try to match wits with the gods are often turned into animals of all sorts. Proverbs about women, especially with regard to animals, reveal the human imagination thinking and saying outlandish things! These and other old stories are a part of my inspiration because they are so visually rich and still resonate so deeply in human nature that I find them irresistible. One humorous or intriguing line is enough to spark an entire sculpture; albeit with signs and symbols. A Grimm's Fairy-tale? Just the (warty) nose of the witch is the lock on the golden cage where she keeps young girls and turns them into birds. Chicken Little? A star around the neck, clouds around the legs, the moon at her feet tells us that – the sky has fallen.

In the natural world Constantine Christofides and I did live for twelve years on a farm in Southern France. We had dogs, rabbits, sheep, mice, foxes, wild boars snorting under the almond tree at 3 am – cicadas, bats, snakes, toads, owls, glow-worms, lizards, magpies, millepedes and ghosts of dinosaurs. And speaking of other eras, the most pre-historic, gigantic dragon-fly flew at 5 am in our apartment window in New York City. The wolf eel is a memory from my scuba diving days in Puget Sound.

While humans have been making depictions of animals for at least 35,000 years, Webster defines Bestiary as a medieval treatise or artistic representation of animals, real or legendary. Those bestiaries were full of wildly imagined creatures. Mine not so much until my Year of the Goat Coloring Book. As early morning and evening light would cross ceramic pieces on my drawing table, entirely odd and rather fabulous beasts would emerge that I knew I hadn't put there. Drawings in this menagerie represent new stories that these vessels have to tell.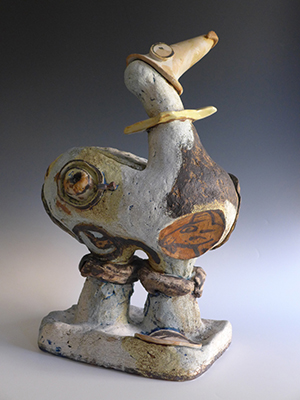 Chicken Little
20.5 by 13 by 8 inches
Mixed Clays
2014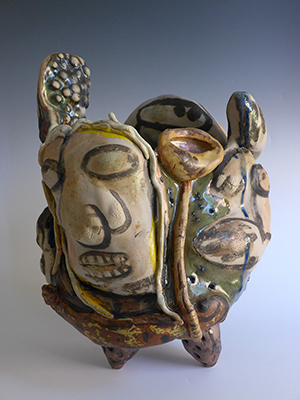 Jardin des Plantes
16 by 12 by 10 inches
Mixed Clays
2014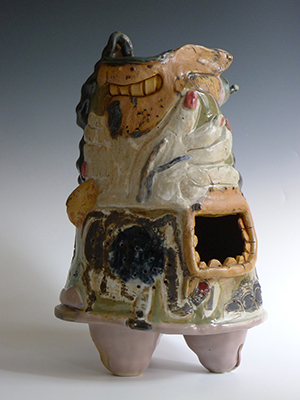 A Woman Can Turn a Man into Anything She Wants
18 by 11 by 11 inches
Stoneware
2012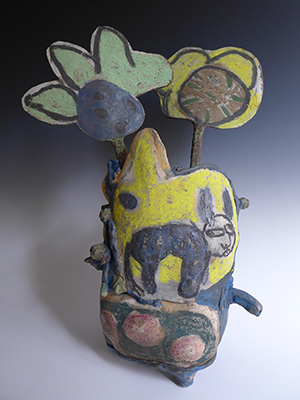 Animals in the Moon
21 by 12 by 9 inches
Earthenware
2014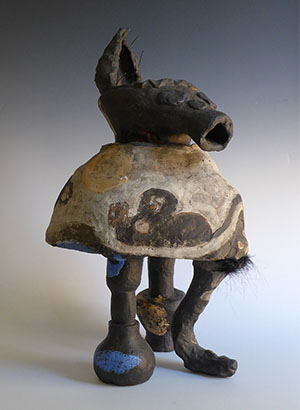 La Creatrice
20 by 12 by 11.5 inches
Stoneware
2015
Lost Island
18 by 10 by 8 inches
Mixed Clays
2014
Shape-Shifting
27 by 9 by 9 inches
Earthenware Mixed Media
2015
A Grimm's Fairy Tale
18 by 13 by 11 inches
Mixed Clays
2013
Lovebug Cicadas
Watercolor on Clayboard
2014
Sold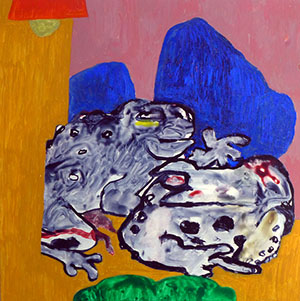 Two Toads
12 by 12 inches
Watercolor on Clayboard
2014
Sold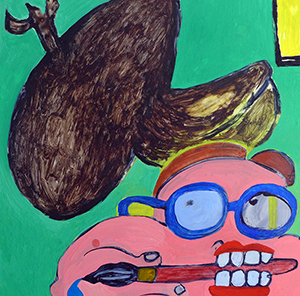 Artist and Owl
12 by 12 inches
Watercolor on Clayboard
2014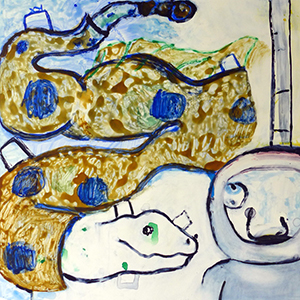 Wolf Eel
12 by 12 inches
Watercolor on Clayboard
2015