Current
View Catalog:



Gallery IMA is pleased to showcase artwork by artist Kathleen Skeels in a combination of new and past ceramic and prints of porcelain tile drawings. Skeels draws on her studies on life and utilizes her imagination in these figurative formats.

Skeels describes her processes behind her works: "For me my art is an alternate world, a place of possibility and discovery where I am at my most capable and where the rules are of my own making. Through my art I make intangible worlds tangible. Art gives me a serious playground that holds me enthralled for as long as it takes to complete the work. Drawing is basic to my art, drawing in black and white and color. It's play. It's memory. It's a refuge. On another level, it serves as a tool for examining the world directly, and for thinking through ideas and projects."

Skeels has taught in the Seward Park Clay Studio and was awarded the 4Culture Grant for Individual Artists Projects in July 2014.
Death Cage Tulipieere
72 by 34 by 34 inches
Stoneware
$10,000
Portrait of the Artist
18 by 18 by 13 inches
Porcelain
$10,000
Alliens Landing
12 by 6 by 6 inches
Porcelain
$1,000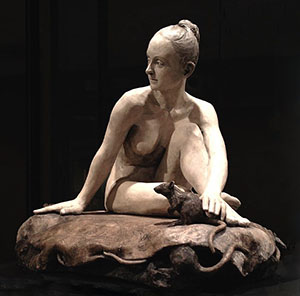 Floating Vimelia
Ceramic
20 by 22.5 by 18.5 inches
$4,000

Toddler with Moths
19 by 13 by 11 inches
Porcelain
$8,500
Dulcius Ex Asperis
27 by 18 by 32 inches
Stoneware
$4,000
She is Dead
16 by 7 by 16 inches
Stoneware
$1,600
Romeo and Juliet Go to Hell
22 by 27 by 14 inches
Stoneware
$12,000
Alice and the Mashers
30 by 35 inches
Print of Porcelain Tile Drawing
$360
Pupa People
6 by 7 inches
Drawing on Porcelain Tile
$700
Un Recado Para Ti
14 by 12 by 11 inches
Stoneware
$3,000
Rats!
12 by 9 by 9 inches
Stoneware
$1,200
Queen Bee
30 by 15 by 10 inches
Porcelain
$1,600