Two in-depth surveys of the four decades of painting by Seattle artist Jacqueline Barnett are the results of a collaboration between two organizations, Gallery IMA and Museum of Northwest Art, and two guest curators, veteran art dealer Francine Seders and independent art critic and curator Matthew Kangas. Ms. Seders has selected works made between 1977 and 2015 for MONA and Mr. Kangas selected works from the artist's collection and designed their installation at Gallery IMA covering 1960 to the present. Together, they expose an artist long present on the contemporary art scene but perhaps not as well-known as others. Now 81, Jacqueline Barnett moved to Seattle in 1988 after years in California, Washington, DC and her native New York City. Developing as an artist and art student in all three cities, Barnett's art reflects the gestural dynamism of postwar New York painting; the strong chromaticism of the Washington Color School; and a submerged female figuration that arose out of the Bay Area feminist movement.
New Publication
Both exhibitions are self-contained; together they reflect and celebrate a new publication,
Figure to Field: The Art of Jacqueline Barnett
, by Kangas, and published by Museum of Northwest Art in connection with the exhibition there. University of California professor of art history emeritus Peter Selz has contributed a preface that places Barnett's art in the context of Bay Area and New York art.
Not only But Also:Art in Vocabulary
Not Only But Also: Art in Vocabulary is a set of 92 card-sized reproductions of paintings by Jacqueline Barnett that pair a painting with a vocabulary word. The word is often challenging and features the definition, etymology, and usage in the form of a whimsical sentence. Experience the frisson of learning which quickly becomes jouissance when you first use the word in a sentence. This hybridity of paintings and words makes the process challenging — and fun.

The 92 prints are from original monotypes printed on Washi paper, 6 x 8 inches. Each card is 3.75 x 5 inches and the set includes one display holder.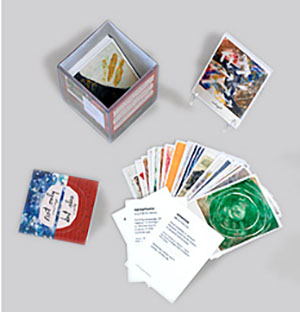 Download Bio

Catalog